Most Rotated, 2010
Everyone does their "best of" lists this time of year. You may call it predictable, but I prefer "reliable". I love combing through people's year-end lists, sampling some albums I've missed, and falling in love with a few new ones. Every year I find some new favorites this way. I'm thankful we're no longer stuck with Billboard, Rolling Stone, and SPIN and instead we get hundreds of lists from all over the world along with great rollups like Hype Machine's Zeitgeist which pull a collective consciousness from them all. I have to believe all of this is making it less likely we miss our would-be favorite album no matter how it was released or promoted. Great albums undoubtedly still get overlooked but lots of cream undoubtedly finds its way to the proverbial top through these lists. Getting tired of year-end lists? Don't be a fun-hater. They're part of the edges organizing themselves into something useful. Embrace! Enjoy!
So it's with great pride I present my "Most Rotated, 2010" list here for your enjoyment and/or ridicule. I'm sticking with just the albums I played over and over this year. There are lots of others which I thought were great but for whatever reason didn't become the heavy-rotation, stuck-in-your-head, something-I-always-feel-like-putting-on that these albums did, and still others I *should* have spent more time with but didn't (but I will! I hope!). As such this isn't meant to be a critical "these are the most important records of the year" sort of list. It's a list of things I listened to a lot. If you haven't heard these, give 'em a listen, and please share yours down there where it says "Comments". Reciprocity is the essence of human life. I LOVE the joy of albums you can't shake and will be forever grateful for any you turn me on to.
I'm also including a list of the lists I'm sampling/buying from down below. Please do me (and others!) a favor and add any year-end lists you find goodies on. As Andre said, Play Your Part.
Without further ado, my list of Most-Rotated albums, 2010:
[DISCLOSURE: some of the below are available via our company, Topspin. Believe it or not, that was not at all a consideration when compiling this list. Below is simply a list of things I listened to a lot this year. I work at Topspin. Topspin introduces me to music. There's intertwining there. But this post/list is not Topspin promotion in any way.]
Number 1: John Grant – Queen of Denmark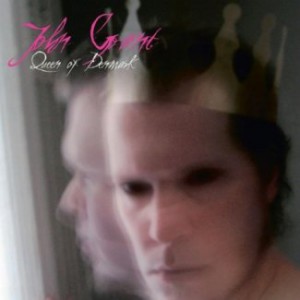 I've already written about John Grant's Queen of Denmark here and here so I'll be brief: this was the most sublime and infectious album of the year for me, the album I wanted to crawl inside of, the one I still find new things to love every time I listen. Not only that, I saw John recently here in LA and he's awe-inspiring live as well. The real deal. Here's hoping there's a long line of great albums from John to follow.
John Grant – I Wanna Go To Marz by Bella Union
Buy Queen of Denmark on Amazon
Number 2: Avi Buffalo – Avi Buffalo
Early last year I went to see The Soft Pack play in a backyard not far from my house. House full of punks who had some official club and even idea-filled literature, with cans of Tecate for sale and a couple bands playing in their garage in the middle of the afternoon. Perfect. My wife and I were there with our then three year-old and pretty stoked on the scene. The last thing I was expecting, though, was to be completely blown away by the opening act, a group of 18 year-olds (one still finishing high school) called Avi Buffalo who slayed their 1pm set. You can see a bit of it yourself, I grabbed it with a Flip cam and threw it up on YouTube. Even more surprising, perhaps, was how much I loved their debut album, released this year on Sub Pop. I still put it on at least weekly. Definitely a staple for me for 2010.
Buy Avi Buffalo direct from Avi Buffalo here.
Number 3: Torche – Songs For Singles
This was definitely "most anticipated" for me. I bought all three colors vinyl and the t-shirt sight-unseen. When it finally arrived I listened to it no less than 15 times in a row on a single London to LA flight. Truth be told Songs For Singles didn't hold up to the standard of Meanderthal but Torche still moves me.
Torche – "Shine On My Old Ways" by Hydra Head Records
Buy Songs For Singles and other really rad Torche stuff direct from Hydrahead
Number 4: Rudresh Mahanthappa & Bunky Green – Apex
I was turned on to Rudresh by the same person who has turned me on to MOST of the contemporary jazz I've fallen in love with the past couple of years, Garrett Shelton (not only a great dude, but impeccable taste). Apex features Rudresh plus his mentor Bunky Green along with Jack Dejohnette and an all-star cast. Stellar record and I played it over and over and over — still do.
Buy Apex along with his entire catalog in lossless audio from Rudresh's site.
Number 5: Big Boi – Sir Lucious Left Foot… The Son of Chico Dusty
I'm a huge Outkast fan and a fan of Big Boi in particular. I know most of my friends dug the Andre 3000 disc of Speakerboxx/Love Below but it was the Big Boi set I played til memorized. That said, I was disappointed with the last Outkast record (soundtrack?) and didn't have high hopes for a Big Boi solo record. But damn, Big Boi delivered, just like getting a new Outkast record in 2010! General Patton into Tangerine is HEAT!
Buy limited edition vinyl and a Good Wood pendant thing direct from Big Boi here.
Number 6: Yeasayer – Odd Blood
Yeasayer was near the top of my best-of list a couple years back and I'm glad they didn't let me down this time around. Great record, incredible live show (at the Hollyweird Bowl no less!), the kind of band I'm glad exists and has fans and all that goodness.
Order Odd Blood direct from Yeasayer here. Get an incredibly well-mixed live recording for free here.
Number 7: Midlake – The Courage of Others
I get why the new Midlake record was generally panned. After Trials of Van Occupanther (and "Roscoe" in particular) expectations were high and the bar was "The New Rumors-Era Fleetwood Mac". So when they released an album with 12 tracks in a minor key which sound like a soundtrack to a midevil fox-hunt a lot of folks chalked Midlake's latest up as a miss and went elsewhere to their search for new pop icons. Too bad, though, because The Courage of Others is a more solid album beginning to end than their previous and just as lovable though admittedly not as prone to sing-a-long. They deliver live, too, and I was amazed to be as happy as I was seeing dueling flute solos at the El Rey in 2010.
Midlake – Core of Nature by recelliekmek
Buy The Courage of Others at Amazon (currently a steal at $5).
Number 8: MGMT – Congratulations
Speaking of panned, MGMT's Congratulations was met with, well, silence? Indifference? It's as if everyone fast-forwarded through looking for the hit, didn't hear it, and moved on. I'm not saying it's as seminal, but the phenomenon reminded me of Paul's Boutique — a genius record not appreciated by those who were looking forward to its release and those who would have liked it weren't about to give a record by "the Kids dudes" a chance. I'm not too proud to say I loved Congratulations more than Oracular Spectacular. A self-aware, modern, psych masterpiece, produced by no less than Sonic Boom!
MGMT – I Found A Whistle by Itubaina Radio Retro
Buy Congratulations for $5 on Amazon right hrrrrr.
Number 9: Mount Kimbie – Crooks and Lovers
Thanks to Miles for turning me on to this one. Incredibeats I listened to over and over while working. Love.
Mount Kimbie – Field (from Crooks & Lovers) by Hotflush
Number 10: Pantha Du Prince – Black Noise
Pantha Du Prince's record is another electronic record that worked for me (in headphones, while I worked, for the most part) in 2010. I haven't loved a record of electronic beats this much since Aphex Twin's Richard D James record. If that was your shit like it was mine, I'm guessing you'll appreciate this thoughtful work straight outta Germany.
Pantha Du Prince – Black Noise by GvsB
Number 11: Warpaint – The Fool
Not only were LA's Warpaint responsible for one of my favorite albums of the year, I also owe to them my very favorite live moment of the year (it involved my four year-old daughter and at least five other kids on stage with Warpaint at The Echo — priceless).
Buy The Fool direct from Warpaint.
Number 12: Joan As Police Woman – Cover
Joan As Police Woman's "Real Life" is still one of my favorite albums of recent years and The Deep Field, which comes next year and I was lucky enough to hear a few weeks ago is sure to top my list of 2011 (download a song from each for free at her site here). In 2010 she just released a simple covers record but from T.I. (listen below) and Public Enemy to David Bowie, Adam Ant, and Nina Simone she nails every one. Even a "just for fun" record for Joan equals heavy rotation for me.
Whatever You Like By Joan as Police Woman by letrapequenatudojunto
Number 13: Kid Rock – Born Free
My history as a Kid Rock apologist is well documented and this year is no exception. When we went to Indiana for my 20 year high-school reunion this year I put the CD in the deck of the rental car and never removed it. All you need to know about why I love this record is to know that when I was little my dad had his Bob Seger ticket stubs taped to the front of his copy of Live Bullet with a Silver Bullet Band sticker. Kid Rock went full Seger this time around and I loved every minuted of it, even the bonus track which is an (unintentional?) direct dis on me. See y'all in Detroit for Kid Rock's 40th in January.
Kid Rock – Purple Sky by dMb Style
Buy Born Free directly from KidRock.com here.
Number 14: King Fantastic – Finger Snaps & Gun Claps
"Gangster never left." So says King Fantastic. DJ Troublemaker + Killer Reese One making Westcoastsynthesizerbeachbumgangstermusic. Hard as hell. Like it's supposed to be.
Download the entire album plus remixes for free at King Fantastic's Web site.
Number 15: Ratatat – LP4
Ratatat hasn't disappointed for me yet. Another great album I can put on pretty much any work day and feel propelled. Sample the opening track below, then come on, succumb.
Ratatat – Bilar by apocalypseparty
Fact is, a lot of what I played in 2010 wasn't release in 2010. So I thought I'd include a list of things on the 2010 "Most Rotated" list which came out in 2009 or in many cases much earlier:
Fela Kuti: I bought all the Fela reissues from Knitting Factory Recordings this year and listen to a side nearly once a day. These aren't new to me but I'll be damned if they ever get old. I'm amazed always. Like the first time I heard "Since You've Been Gone" by James Brown except hours and hours long. The best.
Chuck Prophet – ¡Let Freedom Ring!: I can't remember if this made my list last year or not but it really should have made this year. Behind John Grant, this is probably my "most listened-to in 2010". If you love any or all of the following: Dylan, Petty, The Stones, you are likely to love this record. A rocking record that touches nerves. Just fuckin' get into it already.
Get Busy Committee – Uzi Does It (+ Opening Ceremony and Dancin' On Ya Grave): Technically released last year but still my #1 — this is the record I loved so much I wanted to help deliver it to the people. I know I'm waaaaaay behind on blogging about the progress with GBC but they had an amazing year. The record was released and well-received. SXSW was a success and a blast. The "Tour of LA" was Kogi-fueled fun and hilariousness. The Kickstarter campaign was funded (and Ryu promises me the vinyl is on its way). They went to CT and finished another 14 songs even better than the first which we started leaking in November, just 12 months after we started the first time around (check out Opening Ceremony and Dancin' On Ya Grave here). They performed two songs from the upcoming record on Fuel TV just two weeks ago. 2011 looks good for GBC. It's been more helpful to me to see something like this grow from the inside than I'd even imagined. I will try to find more time to write up my thoughts on the experience in 2011.
Stooges – Fun House: My four year-old is addicted to this classic and for months on end was requesting it every time we got in the car. There are worse curses but just to keep it lively for me we started rocking the "Complete Sessions" on random instead of the album. So amazing to hear that album come together. What's incredible is that while every take varied quite a bit, the one thing that was always consistent was Iggy's "OWWWWW"s. The most spontaneous sounding thing was the only thing actually set in stone? Makes perfect sense.
EPMD – Strictly Business: Friends at EMI hooked me up with the Priority reissues. I used Strictly Business to wean Lucinda off of Fun House. I could listen to this album every day and never tire of it.
Chris Potter – Follow The Red Line: Another recommended by Garrett, Follow The Red Line is recorded live at The Village Vanguard (the red line at The Vanguard leads to the bathroom). This is my favorite contemporary jazz record, period; I'm amazed on every listen, still. Not only that, Chris happened to be PLAYING at The Vanguard when I was in NYC in 2010. Garrett was kind enough to take me (and we brought Syd Schwartz along, too). If you buy one jazz record every five years, this is the one. Don't fuck around.
The Go-Betweens – Friends of Rachel Worth: I love The Go-Betweens but actually didn't know this record well. I pulled it off the Emusic "best of the decade" list last year and played it all year long. The laziest and loveliest.
Finally, here are the other "best of 2010" lists I'll be catching up via:
What are yours?
Music is the best,
ian